I've been incommunicado these past few days, cleaning and cooking and reading and watching it snow AGAIN. But then the snow turned to rain in the afternoon, and this may be a good indication of what my friend D calls a "shite state of affairs" (you need an Irish accent when you say this), but the rain gave me hope. I am never more reminded of the fact that we are beings who have evolved to our natural world when I realize the difference that a sunny day makes for my mood, but this spring I vow to love the rain just as much.
But today the sun is out again and maybe between the rain and the sun, some of this stuff will melt... In the meantime, some things on my mind this week:
Game of Thrones is Back!
I feel like I have waited for these characters forever!
I will have my popcorn ready and I have that same feeling that people in fishing communities must have felt in years gone by - before radios and then satellites - when the boat slipped back into the harbour after months of sailing the ocean.
I don't watch a lot of TV - this is no judgement on TV, I just don't often find things I love - but I have always felt like this feeling of anticipation between seasons of my favourite shows.
It's as if the characters are off some place else and then have come back to me.
When I visited the HBO Canada website this morning, this image was on the Game of Thrones page:
In other words: fasten your seat belt, it's going to a bumpy couple of months!
David Letterman is Going!
I came of age in the 70s and 80s. I remember watching Dave's first incarnation on daytime TV with my mother. And in the 80s, we taped Dave's show every night (when we finally got a VCR!) and watched it faithfully. In Atlantic Canada, Dave didn't come on until 1:35am - you never saw him live except for Friday nights when you crawled home late from the bar and needed to sit up drinking water before you went to sleep.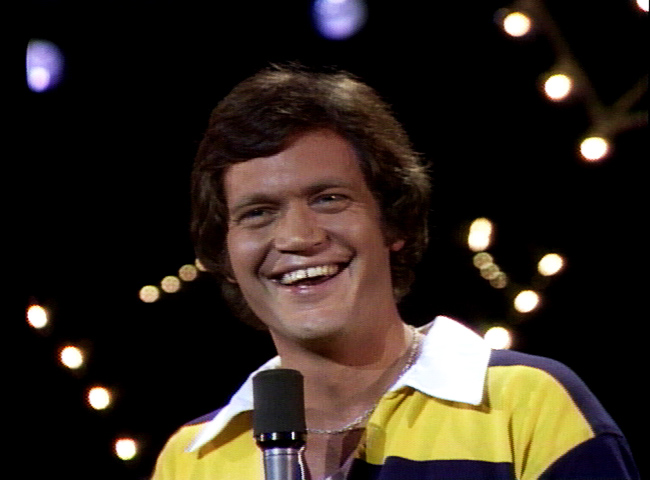 There were always two camps: The Letterman People and The Leno People and never the twain would meet, not really, because if you really, really, loved Dave you were never going to love Jay's sense of humour.
In 1989 Barry and I had tickets for his show and drove to NYC. The show taped at 5:30 at 30 Rock and we got in line at 12:30, number 3 and 4 behind two great fellows from Jersey. Over the next four hours before the seated us, we got to know all about each others' lives, spelled each other off for bathroom and food breaks, until at 4:30 we were ushered into a tiny freezing cold studio where we, and the fellows from Jersey, sat front row center.
And then Dave came out, all tall and better looking in real life, and warmed up the audience. He stood right in front of Barry and I, no more than a foot away.
He asked if anyone was from out of town. I was too dumb-founded to speak, a star-struck fool with cotton in her mouth, gaping up at him in awe and fear, all of my plans for witty repartee with Dave dissolving. I felt like Ma Kettle in from the country watching the big show.
When he was done he passed me his microphone and said "thank you very much" and I dumbly took it. It seemed like a nice parting gift until some lackey ran out and grabbed it from my sweaty hands.
But never mind: Dave had looked at ME. That was enough.
So now Dave is retiring. I remember watching when Johnny retired and having the feeling that a cultural icon was leaving the landscape.
But Johnny was my parent's cultural icon.
Dave is mine.
Dave represents a world pre-children, a world of being young and hip and getting the irony of using Larry "Bud" Melman and Biff, of throwing things out the window and watching them smash, of pricking the ego balloons of guests who visited to hawk their wares.
I appreciate that he's given me a year's notice. I can get ready. I'm going to need the time.
Oh - and I haven't even mentioned this to Barry yet - I've already put our names in for tickets. One last time....Wish us luck!
Sir Patrick and Sir Ian's Most Excellent Bromance:
I am convinced that we all need close friends to make it through this life. And you need to be able to be goofy with at least one of them (some of us are damn goofy with a lot of them!).
I follow Patrick Stewart on twitter and Facebook because frankly, I adore him. And his best friend is Ian McKellen, whom I also adore. And they don't mind being goofy or showing each other affection and whenever I see a picture of the two of them together I am in friendship heaven.
The older I get in life the less and less I care about "looking cool". Trying to be cool is the killer of spontaneity, the killer of really exposing yourself to others. So I'm embracing my inner goofball and these two giants of the thespian world are my guides: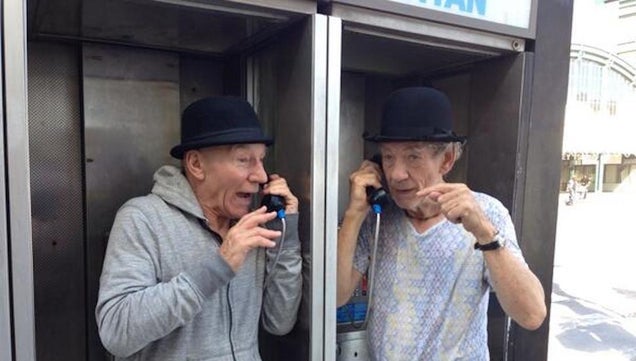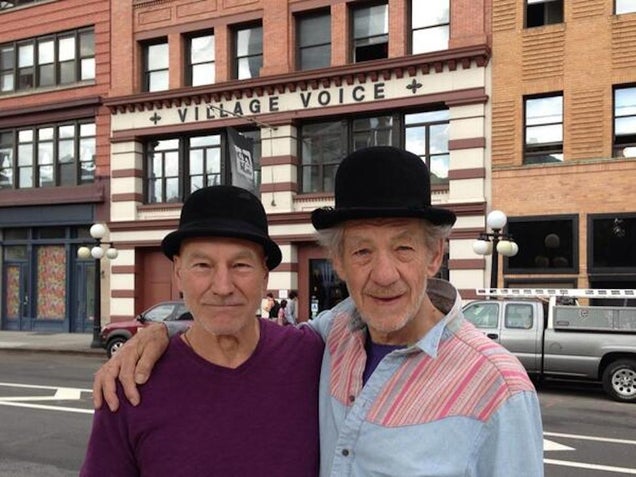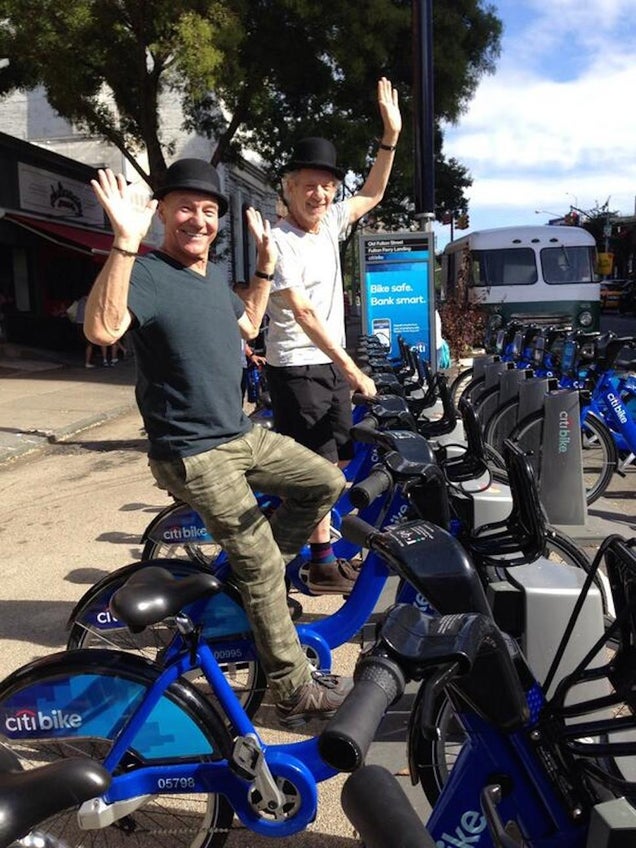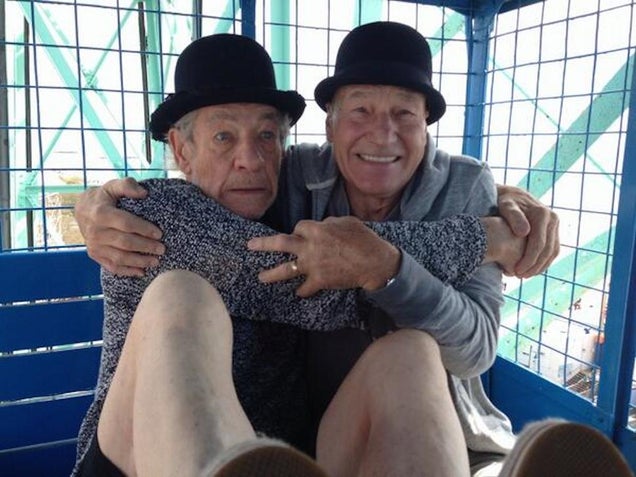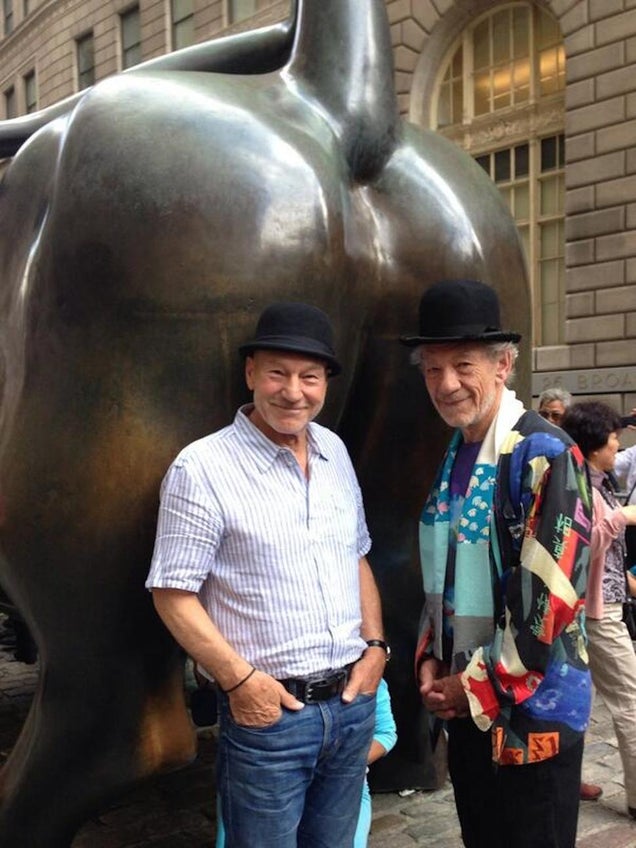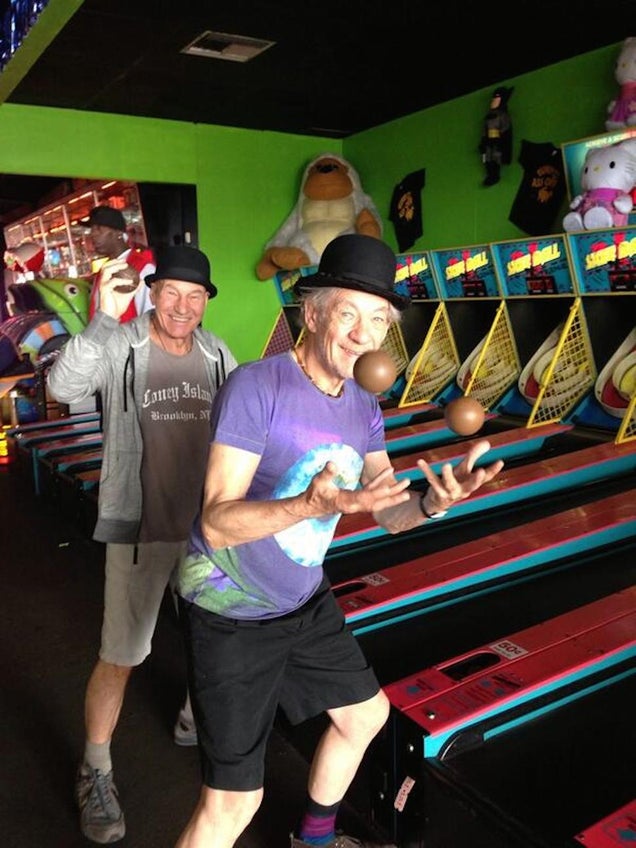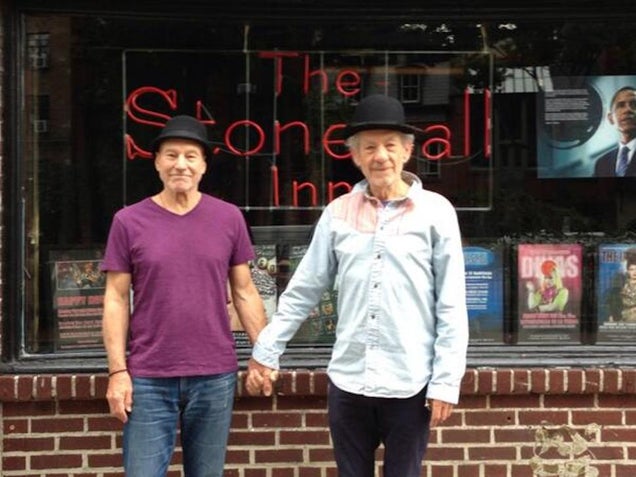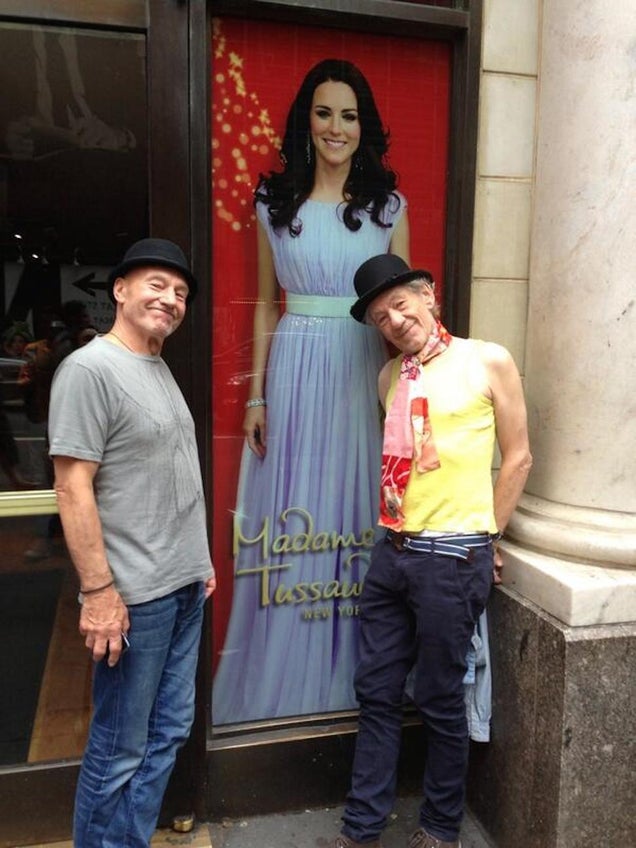 These are two of the great actors ever and they know how to have fun together. They know how to PLAY.
I bet they'd even come to my next costume event. But you also know what this mean: I see a bowling night in my future, preferably one with a disco soundtrack!
And speaking of Bromance, have you seen the documentary Bronies?
We watched it last night.
I'd never heard of Bronies - who are predominately heterosexual men in their teens and twenties who adore the most recent incarnation of the
My Little Pony
TV series.
Before you get all judgey-judgerson about it, watch the documentary. It was absolutely fascinating and heartwarming and heartbreaking in places. And it is a real movement: the last Brony convention in the US had over 4000 attendees.
The documentary follows several Bronies as they prepare to attend Brony conventions in the US and the UK and we get to see how their families struggle to come to terms (or come to accept) their loved one's obsession with My Little Pony.
My Little Pony came after my childhood and my kids came of age between the two series, so we never had any ponies in our house. There is obviously something about the series and its animation that really speaks to people and we were all mesmerized by learning about this sub-culture.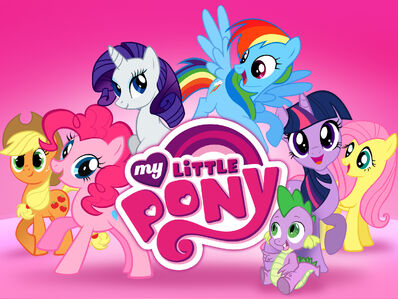 The conference event hosted a session for Warhorses, members of the military who are bronies, some of whom display their "cutie marks" on their uniforms.
If all this seems odd to you, you are certainly not alone - it seems a little odd to me, too. Having said that, I like living in a world where gentle souls (and these are most definitely gentle souls) can find one another and celebrate a show, which though geared originally towards little girls, speaks to kindness and friendship and love. The documentary is definitely worth checking out!
So that's all the stuff in my head on this Sunday morning. I'm up to more cleaning today, a little reading and then I'll probably start polishing my sword and shield before the show starts tonight. I think I'm going to need it!
Have a great day and stay safe out there!
xoxo wendy