I'm not going to pretend to you that as a precocious one year old I have any recollection of the Beatles playing Ed Sullivan.
Nope. The Beatles didn't really hit my radar until I was about 3 years old, when every car ride involving a radio involved the Beatles.
When I was five years old, my sister, who was then all of seven, bought her first 45 -
Get Back
. Which I think is probably the coolest first 45 purchase ever. Much better than my Bellamy Brothers 45 a few years later...
We would sit on her bed and watch that apple go around and around the turntable, laughing hysterically about JoJo. You know - he was a man who thought he was a woman - what up with
that?
Really, the Beatles were hysterical to me then, and every TV interview I saw only cemented that perspective. They were great musicians, but they were side-splittingly funny, too. It was infectious, joyous fun in the beginning.
I remember the day it was announced they'd split. No one thought the split would stick, that somehow, at some later date, they'd get back together.
Oh, and they blamed it on the wives. How misogynistic
that
seems now...
By the time I got into high school in the late 1970s, the Beatles were long split up, but we followed their music, poured over the meaning of the lyrics, as if we were the first to discover them. Other generations of angst-ridden and musically obsessed teenagers have done so every decade since.
We all had our favourites. Most of my friends were Team John or Team Paul, but my friend Dawn and I were Team George all the way...
And then the unthinkable. I woke up to the news on the radio. They were already playing his music, the tributes were pouring in and I was devastated. I remember that I had an exam that day, and as we all waited for it to begin, we huddled in masses, our hearts broken.
There would be no reunions.
Fast forward twenty years to the fall of 2001. The twin towers go down. My mother dies on November 11th and two weeks later, George is gone. A VERY bad fall.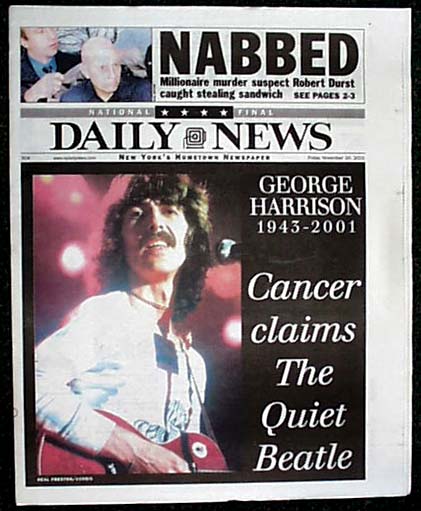 So you will forgive me if I cling to Paul and Ringo like I used to cling to my dad after my mom died.
Last week at the Grammys, they played together, but they pointedly did not play Beatles music.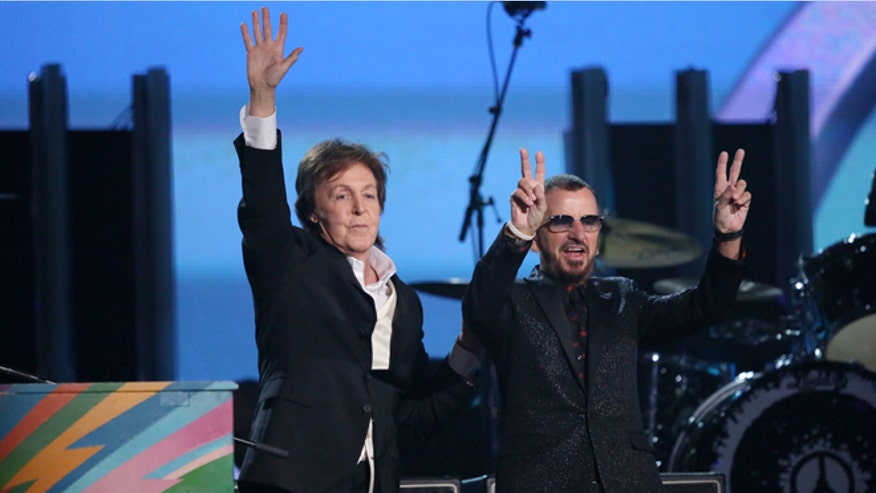 That music has been kept for, to quote Ed Sullivan, "The Really Big Shew" this coming Sunday night on CBS. When those of us who love The Beatles, or those of us who simply love history, will stop and pay homage to four lads who just wanted to play music and have fun.
There is a rumour of an appearance later that night with David Letterman at the Old Ed Sullivan Theatre. And I for one am hoping that this is true and that they will play together again, perhaps backed by some of their kids and especially John's boys Julian and Sean and George's son Dhani. These crazy boys who look so much like their dads and who are forever in their shadows, whether they wish to be or not...
Of course that is the rampant sentimentalist in me.
And I recognize that not everyone is a Beatles fan. Music speaks to a person, or it does not.
But the profound impact that the Fab Four had on their contemporaries and on those who followed, cannot be overstated.
Can there be a spring without
Here Comes the Sun
? A broken heart without
Eleanor Rigby or Let it Be
? A cooler song than
Come Together
? A better sing-along than
Yellow Submarine
? We all want to put our arms around Julian Lennon when we hear
Hey Jude
.
As I age, the song that returns to me again and again is Lennon's
In My Life
:
There are places I remember
All my life, though some have changed
Some forever not for better
Some have gone and some remain
All these places had their moments
With lovers and friends
I still can recall
Some are dead and some are living
In my life I've loved them all
But of all these friends and lovers
There is no one compares with you
And these memories lose their meaning
When I think of love as something new
Though I know I'll never lose affection
For people and things that went before
I know I'll often stop and think about them
In my life I love you more
Though I know I'll never lose affection
For people and things that went before
I know I'll often stop and think about them
In my life I love you more
In my life I love you more
For me the Beatles are Dawn and Susan and Heather and Frances and Anne and Maureen and Joyce. They are James, who looked just like John, and Mark and David and Ian, who were inconsolable that morning. They are the parties we threw, the songs we sang, the hearts we broke. They are Brian and Greg and Rob and Glenn and Teddy and Spaghetti Soirees. Wings, Bond Movies, Travelling Wilburys, beloved ones lost to cancer. You can find a song that speaks to all of your loves and life moments.
And it all began, in earnest, 50 years ago. And I apologize for the length of this post, but it is only a smidgen of what these men have meant to me in my life. I've loved them all.
I would love to hear your Beatles Memories!