Oh, when the time comes for me to go and meet my God, won't you just bedazzle me into the ground? Glue a few sequins on my tombstone?
I do not know if my love of glittery shoes is a direct result of my love for the ruby slippers, but I do love a shiny, glittery shoe - you can be all sedate and proper on top and then BAM! - look at your feet and then: "damn! those are some fine feet!"
As you know, I have eschewed heels higher than 2 inch! So it is important to me that despite wearing heels that leave me, well, almost as close to the ground as I already am, those heels have some pizazz.
Enter the Kiki. You know I love them. I think Dani and I should be doing public service announcements for them. This is my fifth pair of Kikis. I am not proud of that fact, though in my defense, they have been bought over the course of several months and always for a good sale price. However, I do love them. They are lovely chic, comfy shoe.
But to quote everybody on
Game of Thrones
who is about to die or get very cold:
WINTER IS COMING
and with winter, one needs a little more sparkle, because when winter comes so does Santa Claus and parties and presents for pretty girls from their husbands.
and I will be ready. Hell, I am ready now.
So when J Crew released the
navy glitter Kikis
, I was all over them. There was a dilemma - navy kikis or burgundy ones?
Silly question - of course I will need both. But the burgundy ones aren't available until October and someone might have an event before then. I MUST be ready.
Here they are in the all their glory:
The glitter on these should be okay, if my Lula glitter ballets, now going on their third year, are any indication.
I thought I would show you three different ways I plan to wear them ( I am doing an Audrey Bella here - well actually, these were just the first three items I could think of!)
Casual - with jeans and a tshirt: (this just seems very Ines to me, n'est pas?
Winner Paris T, Nougat London cardigan, Richy and Skinny Jeans, Kikis....
Simple: J Crew black cashmere T, jeans and Kikis:
Dressy: a navy Pink Tartan skirt (oldish), black cashmere T (black tights when the time comes) and Kiki. The navy Kikis just make your heart do a back flip!
Oh and with navy tights and my navy bottoms, navy dress, navy blazer. Wear it with my pinstripe suit...
Can a burgundy be far behind? And don't they look kind of like Dorothy's slippers?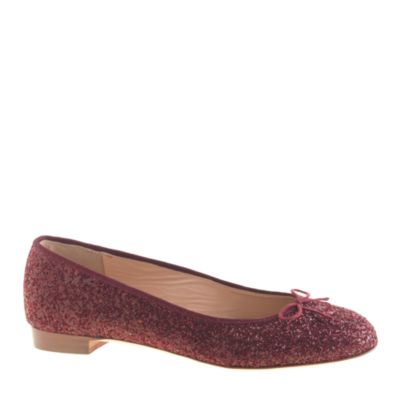 So what do you think? Can you use a little glitter in your life?????? And I may have peer-pressured Dani into buying these...
Tomorrow: Wendy, embellished: a craft project