Happy Monday!
Another edition of our new movie series. This one is a perennial favourite:
Gone With the Wind
.
As an aside, I watched this movie the first time it ever aired on network TV in the 1970s. This was pre-VCR days, with only 12 channels and the airing of
Gone With the Wind
was a spectacle - it aired over 2 nights and you had to stay up, because there was no PVR... :-(
I was so devastated by the ending I couldn't go to school the next day.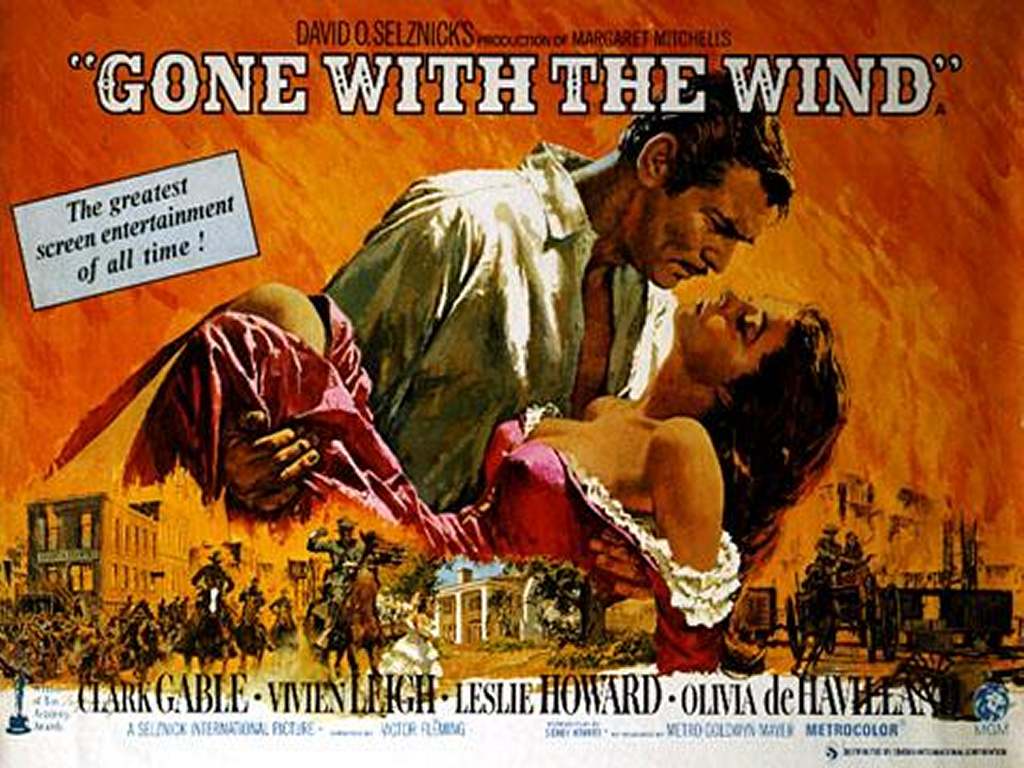 What I Learned from Gone With the Wind:
1. Pretty clothes and fawning beaus are nice to have, but land lasts.
In the end, the great love of Scarlett's life is her family's property, Tara.
Her Pa tells her "
Why, land is the only thing in the world worth workin' for, worth fightin' for, worth dyin' for, because it's the only thing that lasts
."
Oh sure, by the end of the civil war, Tara is pretty much a fixer-upper, but it's
Scarlett's
fixer-upper, and the place where she can re-group and get her act together. I mean, there's always that 4th husband, right?
2. Don't Rush Things...
Oh the man you love may be about to marry that simpering old Melanie, but that doesn't mean you should marry her younger brother in haste....
Scarlett is the Queen of cutting off her nose to spite her face in this movie, first with Charles and then with old Frank. The result is pretty much disastrous for both men, though our Scarlett always ends up on top...
3. Never Give Up
You can knock Scarlett down, but she doesn't stay down and that is why we love her so much. She gives us the inspiration to keep going, keep trying, despite the odds. When things are at their darkest during the Civil War and her family are starving, she still has that indomitable will and it's that will that holds her in good stead and gets her and her family through.
As God is my witness, as God is my witness they're not going to lick me. I'm going to live through this and when it's all over, I'll never be hungry again. No, nor any of my folk. If I have to lie, steal, cheat or kill. As God is my witness, I'll never be hungry again.
4. You can be a control freak, but sometimes you need to just go with the flow
Scarlett never wants to cede power to anyone in life, but the few times she lets go of trying to control the universe, particularly in her relationship with Rhett, she is infinitely happier. Oh we may want to be boss sometimes, but do you really want a partner who lets you boss them around all the time? No - I didn't think so...
No, I don't think I will kiss you, although you need kissing, badly. That's what's wrong with you. You should be kissed and often, and by someone who knows how.
Rhett Butler
5. Don't Judge a book by its cover
Our mothers always told us this and they were right.
What Melly always knows intuitively, and Scarlett never really understands, is that you need to judge people by their actions, not by what other people say about them or their social standing. And so Belle Watling and Rhett Butler prove themselves to be inherently good people, despite their less than stellar reputations, whereas Scarlett has all the trappings of a good reputation and has done nothing to deserve it.
6. Denial is not just a river in Africa
The definition of insanity is doing the same thing over and over again expecting a different result. Despite everything she has gone through in her life, Scarlett stubbornly refuses to change her behaviour or her attitudes.
I can't think about that right now. If I do, I'll go crazy. I'll think about that tomorrow.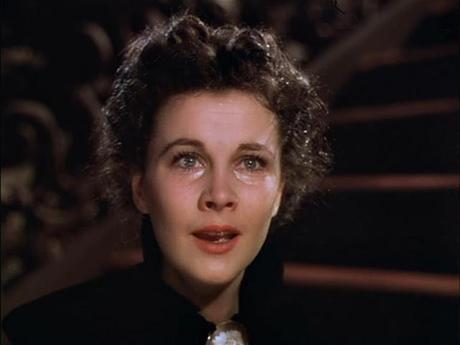 7. After All Tomorrow is Another Day..
Scarlett's greatest gift is her understanding that there is always another chance and another opportunity to try again. With all of her fault, this is her greatest strength. You think things are bad today? Sleep on it and try again tomorrow. There is always hope...
8. Shop Your Closet (or the Windows)
Oh we've all been there - someone important is coming by and we haven't got a thing to wear. Look around; use your imagination; be brave; think outside the box. And whatever your choice of outfits is, wear it with aplomb, content in the knowledge that you are unique..
And by the way, the greatest spoof of a movie scene has got to be Carol Burnett's homage to the above scene. Even looking at the picture below makes me laugh!
9. Life is all about ambivalence
Does Scarlett win back Rhett? Does she end up at Tara with Ashley Wilkes having a boring marriage? Margaret Mitchell doesn't tell us. Oh sure, people have written their own endings to this story, but really, don't we just love the deliciousness of not knowing what happened next? One of the greatest lessons I learned from Gone with the Wind is that the world does not always wrap up everything in a nice neat bow; sometimes things are messy and unclear and sometimes we just have to live with that.
10. Sometimes you just have to walk away
Oh you may love the person, but you know they aren't good for you.
This is the greatest exit in the history of the movies and surely the most heartbreaking one. You want Rhett to stay, but you know in your heart he should go.
So those are the lessons I learned - what about you? I would love to know what you learned from life from Gone with the Wind!
Have a happy Monday and stay safe out there!